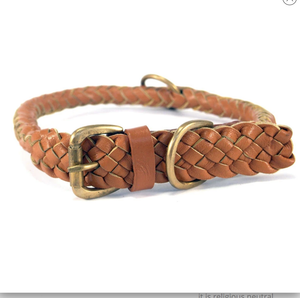 The Tonto Collar Tan is an 8 plait design handmade by our expert craftsmen in buffalo leather - what skill!
Handmade antique brass hardware with leather that shapes readily to the neck of your hound. 
4 Really Good Reasons why we use Buffalo Leather at Georgie Paws: 
. the actual leather is softer, stronger and more stable.
. it resists cracking in the seawater.
. absorbs and releases moisture making it comfortable to use.
. it is religious neutral
Sizing is flexible with the flat plait design
SMALL
32cm Long
2cm Wide
First Hole 20cm - Last Hole 28cm
Fits most Yorkies, Maltese, Toy Poodles
MEDIUM
42cm Long
2cm Wide
First Hole 27cm - Last Hole 37cm
Fits most Border Terriers, Beagles, French Bulldogs
LARGE
52cm Long
2cm Wide
First Hole 37cm - Last Hole 47cm
Fits most Border Collies, Golden Retrievers
XLARGE
62cm Long
2cm Wide
First Hole 47cm - Last Hole 57cm
Fits most German Shepherds, Boxers, Basset Hounds & Goats!