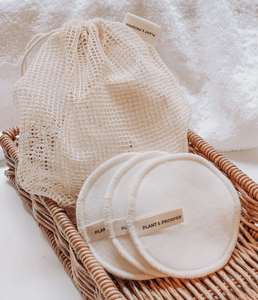 Ahhhh, that blissful feeling of taking your makeup off… Without hurting the planet
It's the end of the day... the moment has arrived that you've been waiting for… you can finally take your makeup off. Ahhh bliss!
But have you ever thought about how much waste comes from this gloriously satisfying routine? Here's a statistic for you - around 9,071,847 kgs of makeup wipes are used worldwide in a single day! That's the same weight as 756 double decker buses. In ONE DAY!
Aside from causing problems for the environment, this is a particularly expensive part of our daily routine and something that can be very easily switched out.
These eco-friendly, reusable alternatives are the easiest way to cut down your wastage whilst saving some pennies at the same time. Simply throw them in the washing machine after a few uses and reuse! At the best part, as the material is organic cotton, at the end of their lifespan you can cut these up and throw them in your compost bin.
Includes:
16 x Organic Cotton Reusable Pads
1 x Organic Cotton Washbag
Cost-effective and environmentally friendly. Win win!