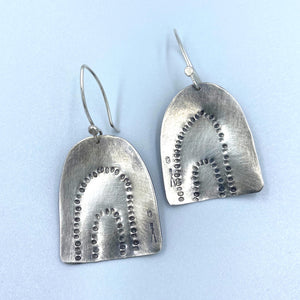 Gabrielle McGrath's work is made with a sculptors eye, hand and thought process and therefore aesthetically are more of an artwork, constructed in the same fashion as a much larger piece.

​​To her, her jewellery designs are essentially mini sculptures.

Her jewellery and wearble art is handcrafted with an uncontrived aesthetic, where she finds form through texture and pattern and lets the materials inherent nature shine through.  Working with it, rather than against it, letting it take her where it wants to go.
Every piece is unique and hand beaten from recycled sterling silver.
Size is approximately that of a 50 cent coin.