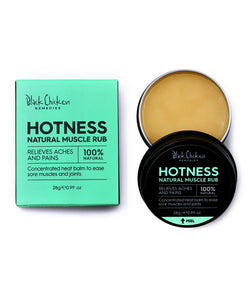 Our concentrated natural vegan heat balm has been specifically formulated to aid in the relief of sore or strained muscles and achy joints.
Reduces symptoms of muscle sprains and strains
Helps to reduce pain and inflammation
Soothes tired, sore and achy muscles
Gives a warm / cold sensation
Does not contain Petrochemicals, Paraffins, Alcohol or other harmful chemicals
Hotness Natural Muscle Rub is the ultimate concentrated heat balm to provide topical symptomatic relief from aching muscles and joints. It is an effective natural alternative to creams and gels, which contain all kinds of synthetic and toxic ingredients like petroleum jelly & paraffins.
It gives fast acting, temporary pain relief from sprains, strains, painful joints, muscular aches and pains, and tension by increasing blood flow to affected areas and infusing essential oils deep into the targeted area. It is ideal for those experiencing the after-effects of intense exercise or activity as it can also help improve recovery of sore and tired muscles and may help reduce joint inflammation associated with arthritis.
The concentrated natural ingredients in the Hotness Natural Muscle rub are renowned for helping soothe muscular stiffness and joint pain with the medicinal properties of Arnica, Menthol, Camphor, Eucalyptus, Cinnamon, Peppermint and Clove. This heat salve produces a warming sensation that can soothe aches and pains.
Made with love in Australia.
Vegan, cruelty free, with no added water or fillers.
28g / 0.99oz
Arnica – Assists with muscle recovery and aids in decreasing bruising, inflammation and pain.
Menthol – Is a topical analgesic providing temporary pain relief. You will feel an initial sensation of coolness followed by warmth. It can provide relief for minor pains, including those caused by arthritis, bruising, cramps, muscle strains and pains.
Camphor – Increases topical blood flow and helps to reduce pain and swelling providing temporary relief of minor muscle and joint aches and pains.
Butyrospermum Parkii (Shea) Butter, Euphorbia Cerifera (Candellia) Wax, Arnica Infused Oil*, Menthol Liquid Oil, Cinnamomum Camphora (Camphor) Bark Oil, Eucalyptus Radiata Leaf/Stem Oil, Mentha Piperita (Peppermint) Oil, Eugenica Caryophyllus (Clove) Bud Oil, Cinnamomum Zeylanicum (Cinnamon) Bark Oil, Tocopherol (and) Helianthus Annus (Sunflower) Seed Oil (Vitamin E), Limonene**, Citral**, Geraniol**, Linanlool**, Eugenol**, Cinnamal**
Certified Organic ingredients*
Naturally occurring in essential oils**