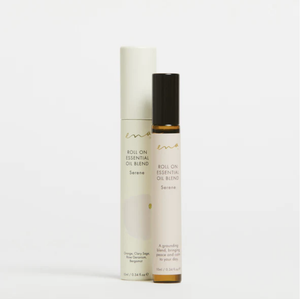 A grounding blend, bringing peace and calm to your day.
A blend of Orange, Clary Sage, Rose Geranium, Bergamot pure essential oils in Jojoba oil.
Our "Serene" blend is recommended when feeling overwhelmed and in need of grounding.  Take some time out to inhale the pure essential oils with these wonderfully uplifting and calming benefits...
Orange - uplifting, stress reducing
Clary Sage - calming, anxiety reducing
Rose Geranium - anti-depressant, calming, balancing
Bergamot - anti-depressant, calming, anti-stress
Jojoba Oil Benefits:  A highly stable wax with a long shelf life.  A natural anti-inflammatory said to have a composition similar to that of the skin's natural sebum, making it a gentle choice for skin application.
Roll directly on the major pulse points - wrists, neck, and temples.
We recommend applying a drop on inside of the elbow before use. Wait 30-60 minutes, if irritation occurs discontinue use. To remove essential oils from skin, use a pure plant oil to clean away excess oil. 
Ingredients:  Simmondsia chinensis (Jojoba) Seed Oil,  Citrus aurantium dulcis (Orange) Peel Oil,  Salvia sclarea (Clary Sage) Oil, Pelargonium Graveolens (Rose Geranium) Oil,  Citrus aurantium bergamia (Bergamot) Fruit Oil