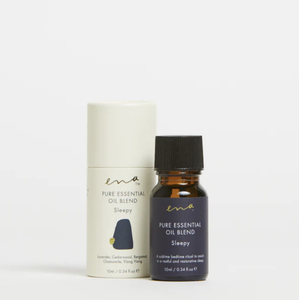 A sublime bedtime ritual to assist in a restful, restorative sleep.
A pure blend of Lavender, Cedarwood, Bergamot, Chamomile, Ylang Ylang essential oils.  Use in your diffuser, bath or add to your favourite body oil.
Our "Sleepy" blend will assist in encouraging a restful night's sleep.  Helping to calm and soothe your mind, it's the perfect ritual to help you drift off for that deliciously restorative slumber.  
Lavender - calming, anti-depressant, sleep inducing
Cedarwood - anxiety reducing, anti-stress
Bergamot - anti-depressant, calming, anti-stress
Chamomile - calming, anti-inflammatory, sleep inducing
Ylang Ylang - anti-anxiety, anti-depressant, sleep inducing, balancing
Add 2-4 drops in water in oil di
ff
users/burners
Add 2-4 drops to a warm bath for a relaxing soak
Add 2-4 drops to your favourite carrier oil for an all over body treatment
We recommend applying a drop on inside of the elbow before use. Wait 30-60 minutes, if irritation occurs discontinue use. To remove essential oils from skin, use a pure plant oil to clean away excess oil. 
Ingredients:  Lavandula angustifolia (Lavender) Flower Oil,  Cedrus atlantica (Cedarwood) Bark Oil, Citrus aurantium bergamia (Bergamot) Fruit Oil, Chamomilla recutita (Matricaria) Flower Oil, Cananga odorata (Ylang Ylang) Flower oil