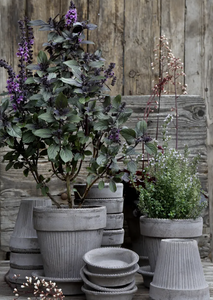 Purchase does not include delivery. Please contact us if you would like to inquire about having these pots posted. If purchasing through the website please elect pick up in store as your checkout option.
Years ago, the romantic Simona Pot materialized in the head of Steffen Berg, as he strolled through busy and atmospheric flea markets in Montmartre. Now our charming and chic Simona Pot points to the aesthetics of the old Latin Quarter and can easily be imagined in the classic French homes and gardens of the 19th century.

Our sweet Parisian "femme" Simona has small pearls sitting neatly on a tight string along the upper rim. Adorned from every angle, she steps elegantly into the light, enhancing her beautiful and subtle details, ready to spread 'amour' everywhere she roams.
Today our petit 'pot de fleur' is gently shaped by the hands of our Tuscan potters.
Unique handmade pots since 1942
Bergs Potter make high-quality terracotta pots that plants love. High-quality materials and craftsmanship mean these pots will live on from one generation to the next.
Handcrafted with love
These pots and planters are designed in Denmark and handcrafted with love from premium quality clay at small, family-owned workshops in northern Italy and Portugal. Bergs always strive to achieve the best quality products.
They fire their clay at extremely high temperatures and use slow-burning firing, giving our pots unique and natural durability.
Pots your plants love
Bergs believe that living with plants improves the quality of life. Pots and plants are an easy and stylish way to transform the look and feel of your home, but for the plants to make you thrive, they need to thrive, too. Since 1942 Bergs Potter has created pots your plants love. Proper drainage gives their roots room to breathe, and superior clay holds in the moisture they need. Bergs Potter create durable pots designed for both indoor and outdoor use. If you take good care of them, they can be passed down from generation to generation.
18 Ø x 21 H