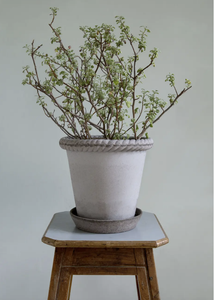 Purchase does not include delivery. Please contact us if you would like to inquire about having these pots posted. If purchasing through the website please elect pick up in store as your checkout option.
The Roman Empire was the inspiration for the Emilia Pot with the signature rope that gently rests on the top edge of this tall, slender pot. Since the 1800s, the Italian city of Modena in the Emilia-Romagna region of Italy has been renowned for producing this type of embellishing rope for sundry decorative purposes.

An original design by Bergs Potter and made in Tuscany, the Emilia Pot is a tribute to the region and the use of time-honoured techniques.
Unique handmade pots since 1942
Bergs Potter make high-quality terracotta pots that plants love. High-quality materials and craftsmanship mean these pots will live on from one generation to the next.
Handcrafted with love
These pots and planters are designed in Denmark and handcrafted with love from premium quality clay at small, family-owned workshops in northern Italy and Portugal. Bergs always strive to achieve the best quality products.
They fire their clay at extremely high temperatures and use slow-burning firing, giving our pots unique and natural durability.
Pots your plants love
Bergs believe that living with plants improves the quality of life. Pots and plants are an easy and stylish way to transform the look and feel of your home, but for the plants to make you thrive, they need to thrive, too. Since 1942 Bergs Potter has created pots your plants love. Proper drainage gives their roots room to breathe, and superior clay holds in the moisture they need. Bergs Potter create durable pots designed for both indoor and outdoor use. If you take good care of them, they can be passed down from generation to generation.
16 Ø x 16 H