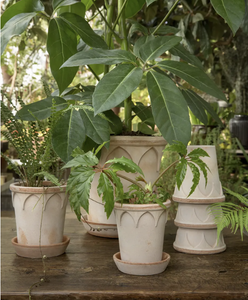 Purchase does not include delivery. Please contact us if you would like to inquire about having these pots posted. If purchasing through the website please elect pick up in store as your checkout option.
Elizabeth: A queen of grace and glory! And yet, this regal woman has also stood fast against storms after more than half a century on the throne.

Like the queen, this pot is durable and adorned with elegance. Gothic arches embellish its sides and form a bold crown when the pot is turned upside down.
The Elizabeth Pot is made as a tribute to all women, everyday queens who sail into headwinds with pride, grace, and strength.
Unique handmade pots since 1942
Bergs Potter make high-quality terracotta pots that plants love. High-quality materials and craftsmanship mean these pots will live on from one generation to the next.
Handcrafted with love
These pots and planters are designed in Denmark and handcrafted with love from premium quality clay at small, family-owned workshops in northern Italy and Portugal. Bergs always strive to achieve the best quality products.
They fire their clay at extremely high temperatures and use slow-burning firing, giving our pots unique and natural durability.
Pots your plants love
Bergs believe that living with plants improves the quality of life. Pots and plants are an easy and stylish way to transform the look and feel of your home, but for the plants to make you thrive, they need to thrive, too. Since 1942 Bergs Potter has created pots your plants love. Proper drainage gives their roots room to breathe, and superior clay holds in the moisture they need. Bergs Potter create durable pots designed for both indoor and outdoor use. If you take good care of them, they can be passed down from generation to generation.
16 Ø x 16 H