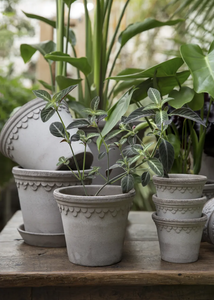 The Københavner Pot [Copenhagen Pot] has royal heritage and is one of the first pots designed by Bergs Potter. This noble pot is inspired by pottery made at the Royal Danish Palace of Fredensborg in 1860.
Years ago, Steffen Berg stumbled upon beautiful old clay pots at a former nursery and created the Købehavner Pot, his very own interpretation of the pottery with royal origins. Today, the Københavner Pot is one of our most popular designs, and our potters still make it by hand in a small village near Lucca in Tuscany.
The legacy of the Københavner Pot adds an element of regal elegance even when paired with the humblest plant.
Unique handmade pots since 1942
Bergs Potter make high-quality terracotta pots that plants love. High-quality materials and craftsmanship mean these pots will live on from one generation to the next.
Handcrafted with love
These pots and planters are designed in Denmark and handcrafted with love from premium quality clay at small, family-owned workshops in northern Italy and Portugal. Bergs always strive to achieve the best quality products.
They fire their clay at extremely high temperatures and use slow-burning firing, giving our pots unique and natural durability.
Pots your plants love
Bergs believe that living with plants improves the quality of life. Pots and plants are an easy and stylish way to transform the look and feel of your home, but for the plants to make you thrive, they need to thrive, too. Since 1942 Bergs Potter has created pots your plants love. Proper drainage gives their roots room to breathe, and superior clay holds in the moisture they need. Bergs Potter create durable pots designed for both indoor and outdoor use. If you take good care of them, they can be passed down from generation to generation.
14 Ø x 19 H