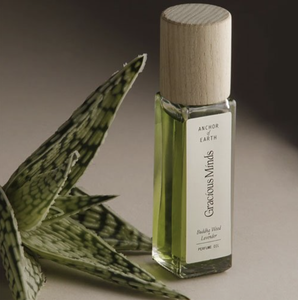 Anchor your mind and body to the earth as you inhale dry, field notes of dense air grounding you right where you are. Allow your mind to drift away, manifesting a sense of calm and intimate connection to the earth.
10ml 0.33 fl oz.
Made in Australia.
Carried by: Organic Fractionated Coconut Oil + St John's Wort.
Top notes: Lavender, Tansy and Jasmine Absolute
Middle notes: Chamomile and Native Rosalina
Base notes: Vetiver and Native Buddha Wood.
Ingredients:
Capric and Caprylic Triglycerides (Fractionated Coconut) Oil*, Hypericum Perforatum (St John's Wort) Flower Infusion*, Lavandula Angustifolia Miller (Lavender Flower) Oil*, Tanacetum Annuum (Blue Tansy Flower) Oil, Simonsia Chinensis (Jojoba Seed) Oil, Jasminum Gradiflora (Jasmine Absolute Flower) Oil, Chamomilia Matricaria (Chamomile Blue Flower) Oil, Melaleuca Ericifolia (Australian Native Rosalina Leaf) Oil*, Chrysopogon Zizanioides (Vetiver Root) Oil*, Eremophila Mitchellii (Australian Native Buddha Wood) Oil, Chlorophyll (Alfalfa) Extract. *Denotes Organic. Allergen declaration (natural components of essential oils): cineole, linalool, benzyl acetate, limonene, citronellol, geraniol.